Home

>

Chicken Liver Sheba
Chicken Liver Sheba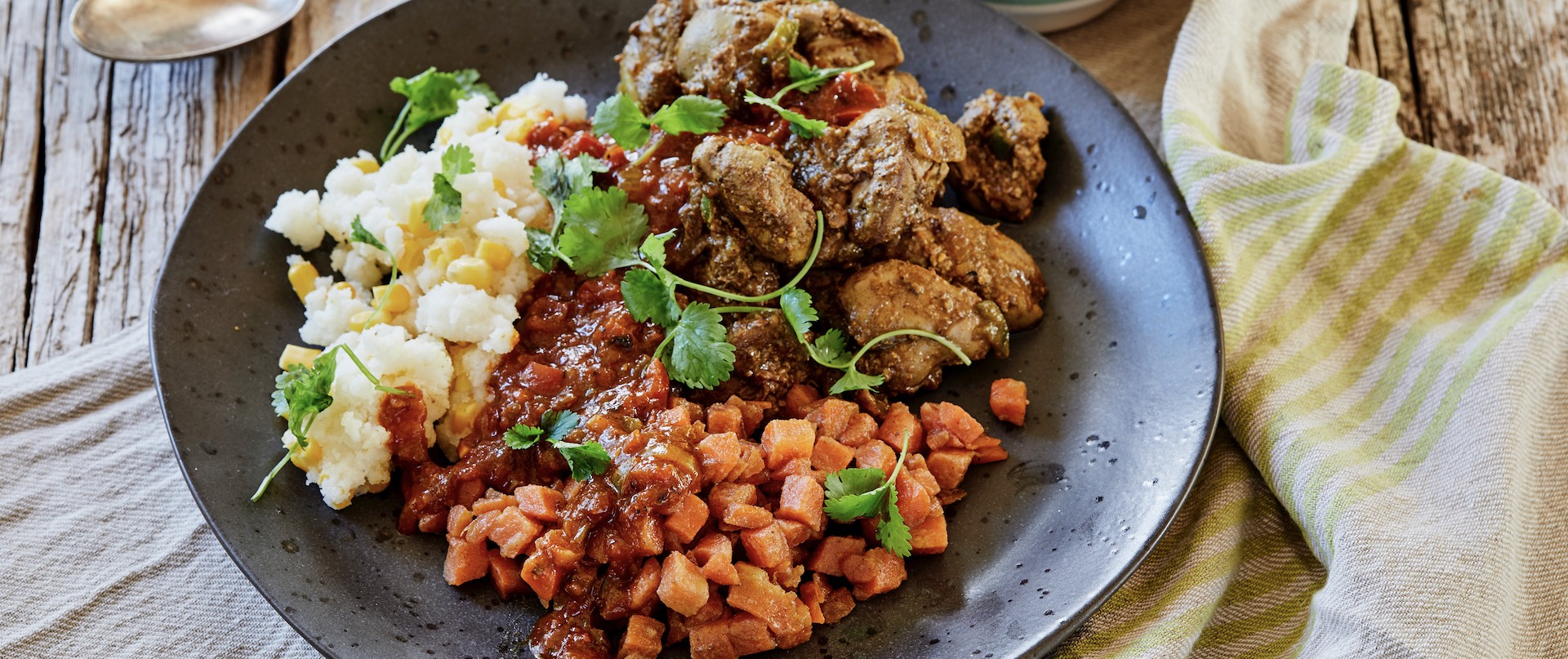 Ingredients
Glazed Carrots Ingredients
2 Cups Harvestime Diced Carrots
100g Sugar
50g Butter
½ Teaspoon Ground Cinnamon
50ml Lemon Juice or White Vinegar
Putu Ingredients
1 Cup Harvestime Sweet Corn
2 ½ Cups Water
1 Teaspoon Salt
2 ½ Cups Maize Meal
80g Butter
Sheba Ingredients
2 Onions, finely chopped
1 Teaspoon Garlic Flakes
4 Large, Ripe Tomatoes, finely chopped
1 Green Pepper, finely diced
¼ Teaspoon Sugar
Salt and Black Pepper
Chicken Livers Ingredients
1 Onion
1 Green Pepper
1 Chicken Stock Cubes
1 Teaspoon Chicken Spice
1 Teaspoon Mild and Spicy Curry Powder
2 Cups Water
Chicken Livers
Directions
Prep Time: 20 minutes
Cooking time: 1hr
Serves: 4
For the Chicken Livers
Rinse chicken feet thoroughly before dropping them in to a pot of rapidly boiling water for approximately 1 minute.
Drain and cool slightly before peeling off the skin.
Remove the nails by cutting each claw at the first joint.
In a medium sized pot, add the chopped onion and green pepper and lightly brown before adding the chicken feet and browning them too.
Add all remaining ingredients and cook for 15 to 20 minutes until the chicken feet are soft and tender and the sauce has slightly reduced.
 For the Carrots :
In a medium sized pan, add the carrots, butter and sugar and slowly reduce until most of the moisture has evaporated.
Add the cinnamon and lemon juice/Vinegar and cook for a further 5 – 8 minutes until the carrots are sufficiently glazed.
Season to taste.
 For the Putu:
Bring water and salt to the boil in a deep, heavy-bottomed pot.
Gradually add the maize meal to the boiling water stirring vigorously.
The mix will be quite dry, but break up any large lumps before putting the lid on and cook on a low heat for 8 minutes.
Remove lid and stir well with a large kitchen fork, crumbling the pap in to finer pieced.
Replace lid and steam at the lowest heat for 40 – 50 minutes.
Fluff with a fork or wooden spoon a few times during cooking.
To determine if the putu is cooked. Taste a spoonful and press it against the palate. If it is still hard and crunchy, add more water and cook further. If it is soft and fluffy, the putu is cooked.
Add Sweetcorn and warm through before serving.
 For the Sheba:
Lightly brown the onion in butter or oil.
Add remaining ingredients and cook over a low heat, uncovered, for about 20 to 25 minutes until the sauce thickens
#MakeMealsGoFurther
Recipe & Photo Credit: @Apriena (on Instagram)