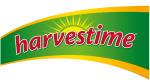 Slap Chips 750g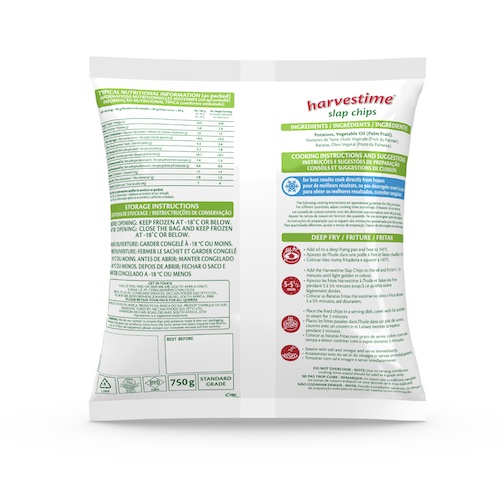 Product Information
Potatoes, Vegetable Oil (Palm Fruit). *Naturally
Golden on the outside, soft and fluffy on the inside. Harvestime Slap Chips are the traditional favourite.
Click here for some delicious recipe with Harvestime Slap Chips
No peeling or chopping required. Ready to cook. No preservatives. 
Storage Instructions
Before opening: keep frozen at -18°c or below.
After opening: close the bag and keep frozen at -18°c or below.
Cooking Instructions and Suggestions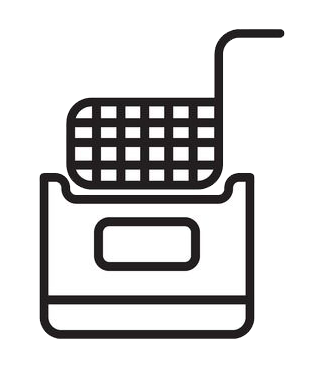 DEEP FRY
FOR BEST RESULTS COOK DIRECTLY FROM FROZEN.
The following cooking instructions are approximate guidelines for 500 g of product. For different quantities, adjust cooking times accordingly. If thawed, do not refreeze.
DEEP FRY:
1. Add oil to a deep frying pan and heat to 145°C.
2. Add the Harvestime Slap Chips to the oil and fry for 5 – 5½ minutes until light golden in colour.
3. Place the fried chips in a serving dish and cover with lid.
4. Allow to steam for 2 minutes.
5. Season with salt and vinegar.
6. Serve immediately.
TYPICAL NUTRITIONAL INFORMATION (as packed)

Single serving = 80 g

Per 100 g

Per single serving

Energy (kJ)

472

378

Protein (g)

2.0

1.6

Glycaemic Carbohydrate (g)

15

12

of which total sugar (g)

<0.5

<0.5

Total Fat (g)

4.5

3.6

of which saturated fat

of which trans fat (g)

of which monounsaturated fat (g)

of which polyunsaturated fat (g)

2.3

<0.1

1.6

0.6

1.8

<0.1

1.3

0.5

Cholesterol (mg)

<1

<1

Dietary Fibre#  (g)

1.9

1.5

Total Sodium (mg)

7

6

#AOAC  991.43. Information applies to product as packed.